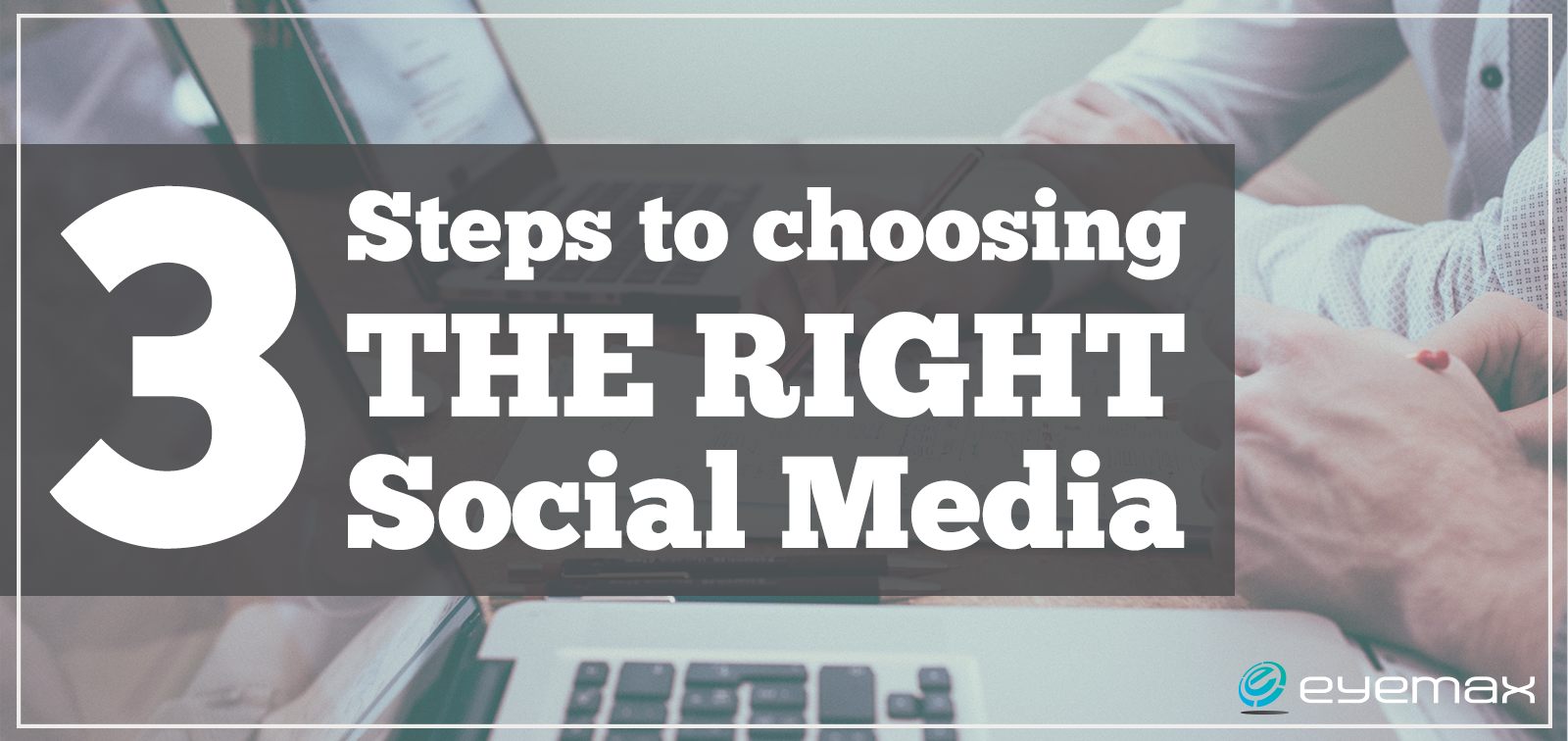 How do I know what social media platform to use for my business?
The answer is not so simple. It depends on your type of business, audience & what you are capable of when it comes to time and resources. But, if you put in some hard work there will be pay-off. Social media is a great way to communicate with consumers, help solidify your brand & even gain potential leads for your business. These 3 steps will help you chose the best social media platforms for your business.
Step 1: Identify your Target Audience
Try to understand your audience by examining a few things about them
Who are they?
What social media platforms do they use?
How often are they on these platforms?
What kind of online content do they enjoy?
The more you know about your audience, the easier it will be to choose platforms & meet their needs. Look at your competitor's social media presence, see what they are doing well & what is getting the most engagement.
Step 2: Know your Platforms
To make an educated choice on social media platforms, you need to know what they are and how they are different. This will help you determine which platform offers the most potential to reach your specific audience. Here's is a quick breakdown of the most popular social media platforms for businesses.
Twitter– This social network is limited to 140 characters per post, or tweet. Even less characters, if you are including an image in your post. Twitter is like an on ongoing conversation, or a quick text message.  This is the most "in the moment" social media platform & is perfect for rapid posting. Twitter is great for making important announcements, introducing new technologies & breaking news.
Use the power of hashtags & "@" mentions to connect with leaders, innovators & vendors in your industry. If you are actively blogging for your business, Twitter can be a great way to post your links & connect with others.
Facebook– This is the largest social network, with over 1 billion users. Facebook is a great way to connect people to your business, locally & worldwide. This social media platform is usually beneficial to any type of business, because of the versatility. It is the perfect place to work on branding your business by sharing videos, photos and text updates. Users can even leave reviews, which strengthens the reputation of your business.
Facebook can be more low maintenance than other platforms, with just a few posts a week. This gives you a chance to represent your business, give the followers an inside look, and gives you a platform to show your expertise. Just make sure you are responding to questions & comments or redirecting followers to the appropriate contact info or website.
LinkedIn– This is a networking site that is a great place to connect with others in your industry or other local businesses. LinkedIn is all about growing business connections. This is a place to get your services out there, as well as give advice & ask questions of others in your industry.
LinkedIn in also an ideal place to post your blogs & will help gain awareness for your brand. You may not always connect your business directly with consumers on this platform, but it is a good practice to have a professional LinkedIn page. This page will also help your employees have a stronger personal LinkedIn profile page.
Instagram– This visual platform is great for showcasing the creative and personal side of your business. If your business is personal and likes to have fun, Instagram is the platform for you. It allows posting of photos and videos up to 15 seconds. There are tons of filters you can apply to your photos & videos to give them a cool modern or retro look. Instagram also uses hashtags to help users search for keywords, that can lead to your photos. Research what hashtags are working for popular accounts & apply that knowledge to your own hashtags.
Are your employees taking selfies & bringing unique and special touches to your office? Snap a picture and post it on Instagram. Most phones have quality cameras these days, so it's easier than ever to photograph what makes your business unique. Followers like accounts that are very active, so make sure you are posting daily.
YouTube– This is a very powerful visual tool, that only allows video.  If your business has any video content at all, start a YouTube channel. You don't have to be that active on this platform, but it is a great place to upload your videos. Having your own channel gives you a place to send consumers and is easy to advertise across platforms.
For example, consumer testimonials can be uploaded to YouTube & shared onto Facebook. From there your audience can click through to any other videos you have available. Who knows! Your videos could even go viral! Viewers LOVE instructional videos, demonstration videos & videos showcasing new technology. So, go ahead and show them why you are the best in your market!
Google+– This is a social network created by Google. A lot of people think that Google+ is a ghost town, but it can do more for your business than you think. It is very simple to automate Google+, by connecting it to your Facebook posts. This can mean very little work, with BIG benefits.
The BEST thing about this platform is any content you put on Google+, can help your business google ranking. Google is the number one search engine in the world. Everything you post on you Google Plus for Business page is immediately indexed by Google. Which means, what you post to your page can rank in search results even if your website doesn't.
Pinterest- This is another visual platform that works as a digital bulletin board. Users identify their interests & use these keywords to search for different information, pin ideas for later & organize on different boards. Pinterest is like a search engine for decorating, cooking, fashion, wedding planning… the list goes on and on. Through the discovery of images, users can click through to what interests them. From there, users are redirected to the website where the original content was posted. Pinterest is a leading platform for traffic referrals.
This platform does not work for every business, but it can be helpful in certain circumstances. For example, an office administrator could pin posts from the company blogs or even pin images of glasses offered in the optical shop. This would be a great way to drive traffic to your company's website.
Check out this infographic by Leverage, for any easy visualization of this information.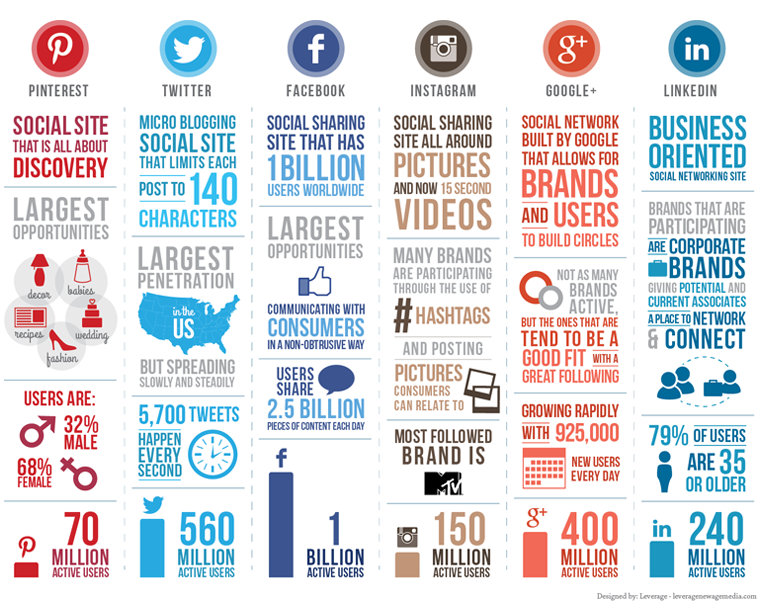 Step 3: Making the Choice
Determine How much you are capable of. It takes a lot of time, energy and resources to be successful at social media. You need the content to post & the capacity to deliver on social media. Depending on whether or not you can hire someone to monitor your accounts, it's best to use a "less is more" approach.
Be picky. Only chose two or three social platforms. Use your knowledge of each platform to carefully determine where your audience is & where they will be the most responsive. Make sure that you are posting engaging content on your social media pages & keeping a regular social media schedule.
You don't have to be a master of all social media platforms. But with a little time & research, you can be awesome at a few.